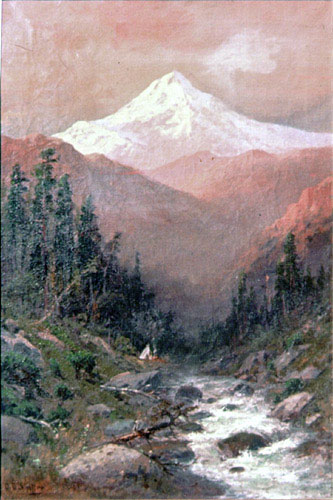 Mount Hood from Hood River, Oregon [5] (attributed)
by "O. G. Shäffer"
Oil on canvas, 20 x 30 inches
Owner's photograph
"O. G. Shäffer"
This landscape, which appears to be the work of Frederick F. Schafer, bears the signature "O. G. Shäffer"; the second initial is ambiguous and might be read as "B" or even "C". The inscription hand is similar to, but perhaps not the same as that of Frederick F. Schafer. No good explanation for this inscription has been devised, and no other painting with a similar inscription has turned up.

For reference, at the left is an image of the painting, and to the right is a detail showing the puzzling signature inscription.