An oil painting that emerged in Britain bears the signature "F. Schäfer" in a disconnected printing hand similar to but with elegant calligraphic flourishes not typical of Frederick F. Schafer. The subject matter is typical for Frederick F. Schafer, but the style is somewhat different and the quality of draftsmanship of the figures and horses is much better than that found in other paintings of of Frederick F. Schafer.

Nothing has been discovered about this other F. Schäfer. Since nothing is known of Frederick F. Schafer's work in Germany before he emigrated to the United States, it is possible that this painting is one of his early works.
[Watering the horses]
by "F. Schäfer"
Oil on canvas, 28 x 41 in
Owner's photograph

In 2012 a second painting with a very similar signature emerged in the United States. The only additional clue as to its origin is that the signature includes the date "'79". The owner reported that the painting has been in the family's possession since at least 1982, so the date could be either 1879 or 1979. A verso photograph shows deeply oxidized stretcher bars, suggesting that the date be interpreted as 1879.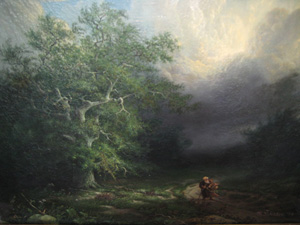 [Monk on forest path]
by "F. Schäfer"
Oil on canvas, 31 x 22 in
Owner's photograph